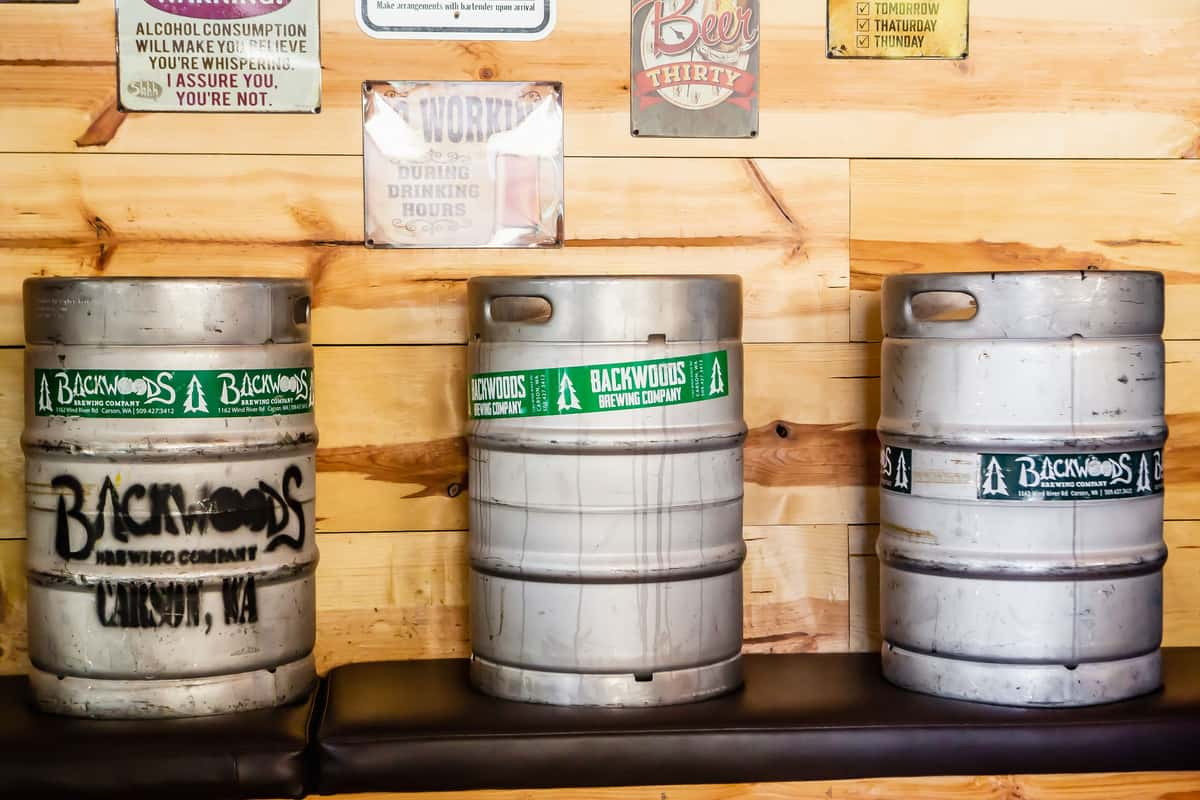 COVID-19 Survival Blog #5 - Backwoods Bootleg Drive-In
COVID-19 Survival Blog #5 - Backwoods Bootleg Drive-In
The Backwoods Bootleg Drive-In
Okay, like I said in the last post, no more money talk for a bit.
And to be honest, by about mid-way through the first week of the shutdown, we had all had just about enough of thinking about money as well. It was time to do something fun.
Actually, the idea was born on the first day of the shutdown. Two guys on our team had the same thought separately within hours of each other:
"If people have to distance themselves from each other - could we host a movie night that they could watch from their cars?"
There's a big field behind the pub that we actually don't rent with the rest of our building, but it's also owned by our landlords. In that same field, there are also a couple of large-ish trailers, and no one is entirely sure who owns those. (Did we mention our brewery is called Backwoods?)
This is what they look like: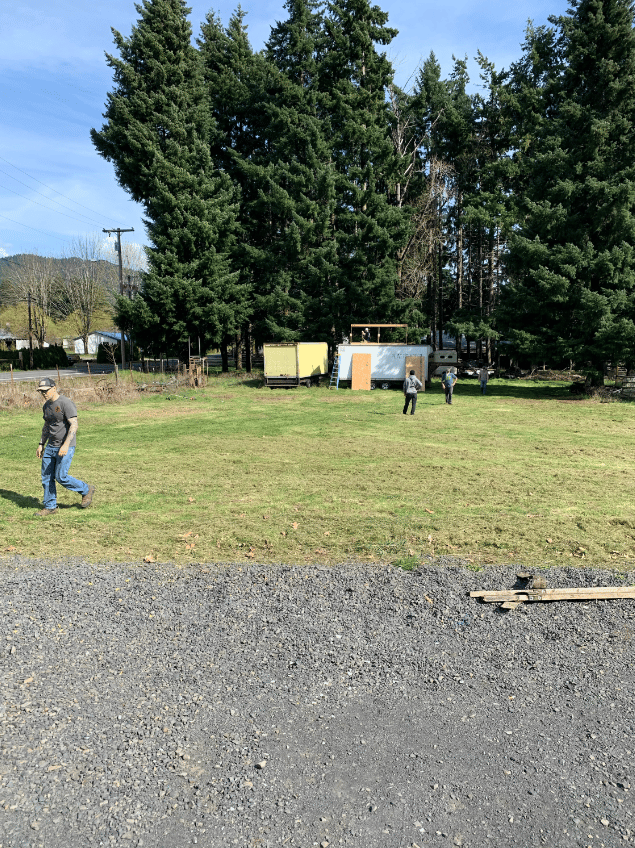 With about a day's worth of mowing the lawn and prepping the parking lot/field, we had our theater. Well, not quite. After some testing we realized that the trailer didn't sit high enough to be visible to all but the front row, so we built a screen out of donated scraps and Tyvek, and screwed it to a wooden base that was ratchet strapped to the trailer so we didn't permanently damage anything: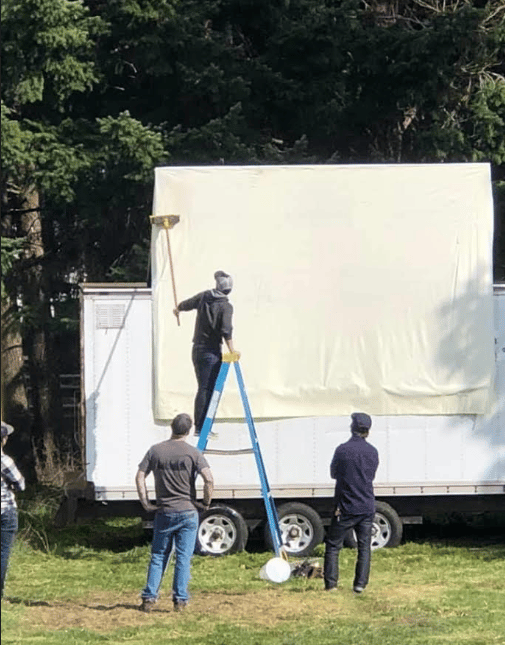 (Hey look! It's me trying to look helpful while three dudes tolerate it!)
Of course, anyone who has ever been forced to improvise an amateur drive in theater after a pandemic forces them to shut down the vast majority of their business KNOWS that the visual piece is only one side (possibly the easier side) of the equation.
We had to figure out getting the audio of the movie into people's cars. We kicked around the idea of just getting a huge speaker out there to blast it into the field, but it was pretty cold at night, and needing to roll your windows down to hear the audio would be kind of lame. Plus, we like our neighbors around the pub, and we want them to keep liking us, so blasting sound through Carson Valley was probably not going to go over well.
Someone had the thought that a local guy we all knew was a big radio nerd and might know someone with an FM transmitter, and sure enough, he did. On a recommendation from him, my brother drove all the way to a radio station in The Dalles, OR to investigate, and in the end triumphantly returned with the transmitter and a MASSIVE antenna that could have beamed the sound nearly out to Portland. The fellow who let us borrow it worked for the station and was excited that it would be going to such a fun project. He was also blind, and operated all of his complex radio equipment entirely by touch. That has nothing to do with the story, but it's kind of crazy, right? Anyhow...
Finally, we had our movie night. We had some other big dreams like doing audio announcements beforehand and posting some important information on screen but with as little time we had and on entirely borrowed tech, we had stretched the limits of our capability, and were happy to just put "100.7 FM" in black and white on the projector while the cars rolled in. The audience got the point, and it all worked out.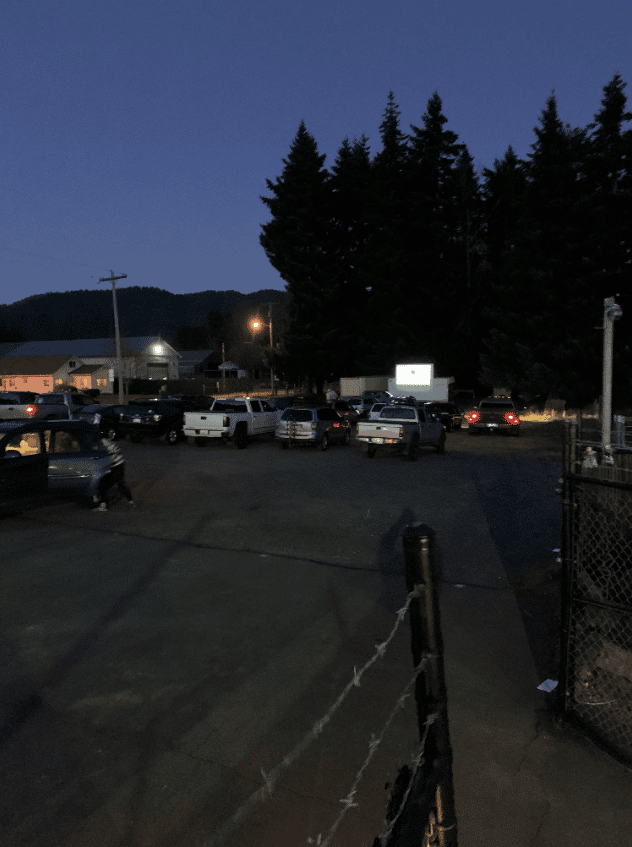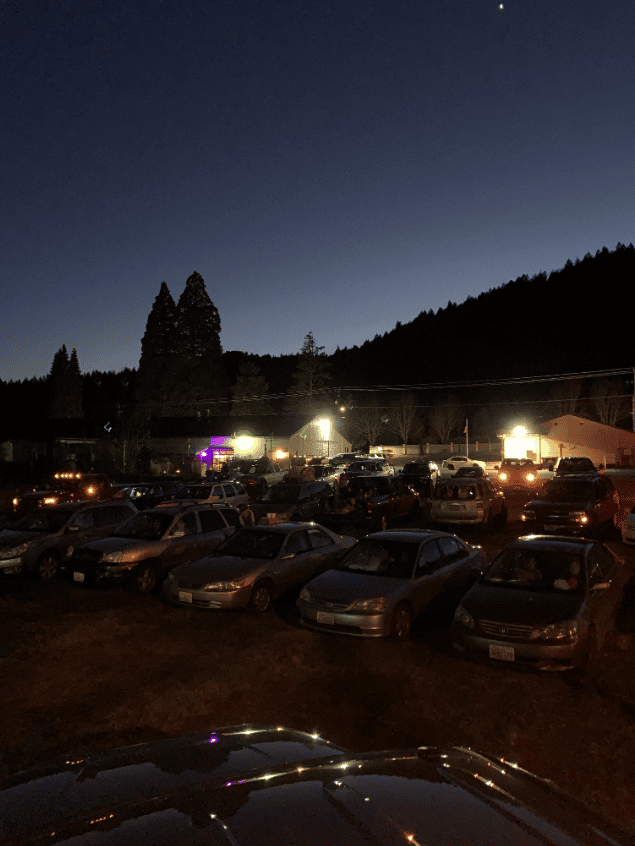 We didn't charge anyone to watch the movie. I have to admit that part of the reason we did it was in hopes of getting more takeout traffic at the pub on those nights. Did it move the needle that much at the pub? Not really, we noticed. Were we glad we did it anyway? Of course.
The drive-in was something to dedicate ourselves to at a time that we were all in need of some silver lining, and it worked. Earlier that week we had furloughed good friends and had forced ourselves to grin through significant pay cuts. On the day it all came together we were smiling behind our coffee mugs (which were secretly full of beer) while we put the finishing touches on the screen.
On top of that, the Stevenson/Carson community seemed to need something like this right then too. In the middle of a scary time it was a goofy and fun thing to do, and maybe just as importantly, it was a little bit of togetherness in a time that we have to get a little creative about how we get together.
Will we do it again? We've all decided we probably can't until the stay at home order is lifted at least. But with how fun it was to put together and how much folks seemed to enjoy it, I don't think we've seen the last of the Backwoods Bootleg Drive-In...